A Word About Carole
May, 2020
Healing Hands Network was founded in 1996 in the wake of the Balkan War which was a genocide of huge proportions against religious communities and included the Siege of Sarajevo, the longest and bloodiest siege in modern history.
HHN have been working in Sarajevo and its outlying areas for 24 years with the civilian survivors of concentration camps, rape camps, torture, ethnic cleansing and losing sometimes several loved ones or all family members.
We offer a wide range of professional complementary therapies to help the road to recovery from such huge trauma and Post Traumatic Stress Disorder as is present there. Our volunteers give freely of their time to go to Bosnia for a 2 week tour of duty helping those who are still suffering, it will take approximately 3 generations to heal. As a small UK self funding charity, funds have to be raised to travel to Sarajevo and for the general running of the operation out there.
HHN also works in the UK with veterans and serving personnel of the Armed Forces. We help at centres around the country including two 4 hour afternoons per week at Combat Stress head office and residential recovery centre in Surrey, West London Mission, (both of whom Carole is very involved with on a committed regular basis), Stoll Housing and Royal British Region amongst them. We also attend individual veterans groups, veteran care homes and Fabcamps which is an organisation that organises holidays for the bereaved families and children of the Armed Forces during the Summer holidays and is run by the Army.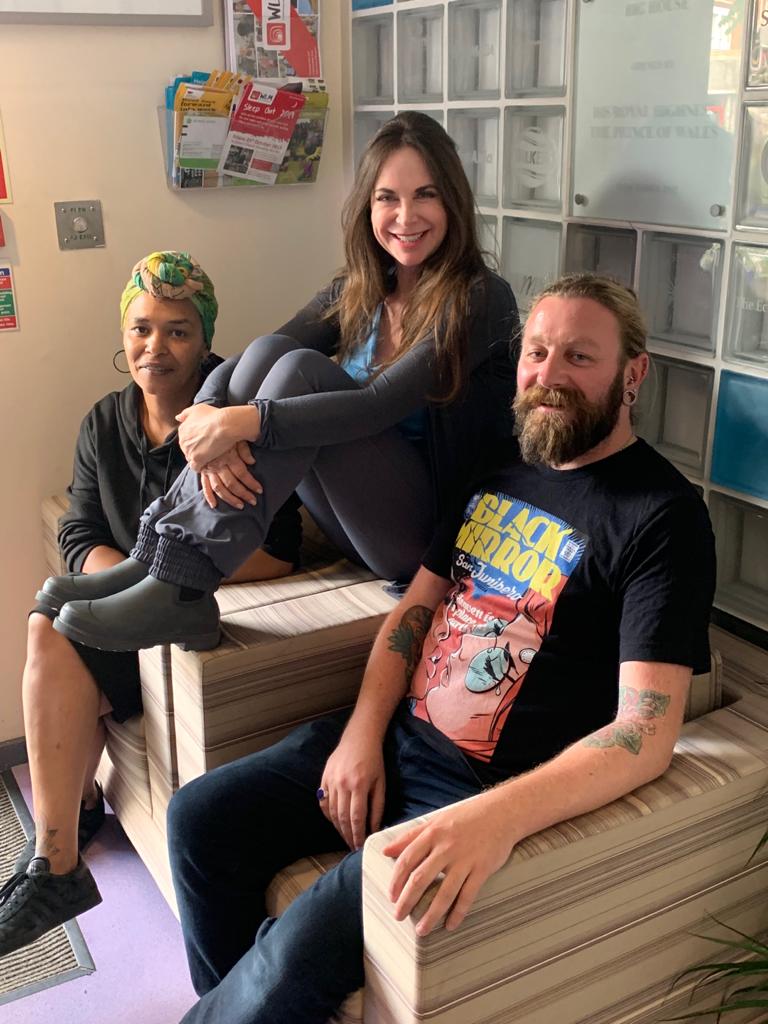 As we are all volunteers, running such an organisation is very challenging. As with all organisations you have a mix of people joining – some who join and want to be involved and pro-active, others less so and some who are content to be just a member and support our work. All of this is fine, but when you get someone who is prepared to put their head above the parapet and is like minded and energetic- it is a breath of fresh air and enables our work to evolve greatly.
Such a person joined us thankfully a couple of years ago – the dynamic Carole Caplin. I had heard of Carole but never met her. Thank goodness she came on board. Carole is so full of enthusiasm and ideas and is prepared to help carry them through and make them happen. I get offered many ideas and thoughts but with no follow-through, but Carole is very proactive which has helped me evolve the work I so wanted to do. She is very dedicated and always there when you need her, never lets us down, is totally reliable, trustworthy, and honest. All quietly and without ego.
Carole has been out to Sarajevo and worked with us. It's a gruelling schedule starting at the crack of dawn, packing up and either cleaning and preparing our onsite therapy rooms or travelling to outreach places which are challenging spaces to work in and then working back to back. We build in an hour for lunch but once Carole starts working and it's often 2 hours per person giving individual treatments, she doesn't come up for air until it's time to pack up. Carole also supports them with individual corrective exercise programmes to follow plus any appropriate nutritional and wellbeing advice, a complete package. Our team and clients love her.
When she was there Carole noticed that our clinic base and living accommodation needed some attention, especially as we had experienced a water leakage over the harsh winter and some of our belongings had gone mouldy. Without hesitation, Carole along with her colleague Julie Makarewicz and Sue Glazebrook, who has worked alongside me for years, got down on their knees and scrubbed and turned the place upside down, threw out all the old. She then got into the car, organised the repair work, new laminate flooring to be laid, redecorated and she upgraded our linen, towels, with special pillows which took the clinic to a very high spa like standard.
She wanted our clients and other hard-working talented therapists there to have a lovely experience with the best we could possibly provide. We could never have done this without her eye for detail and generosity.
For our work in the UK Carole is really involved heavily and committed to helping our amazing veteran community. Despite working long hours in her own business Carole always makes time for any work I throw at her, never refuses, always turns up and always does an amazing professional and caring job. She is a ball of energy and she shares that energy freely and with care, making sure people benefit and feel better.
During this lockdown period Carole has written wellbeing advice for our members and followers on our website, Facebook and social media pages and has set up an online group workshop each week for groups of veterans and also the people who look after them and organise their centres, offering them the opportunity of group and one to one sessions pro bono. This is amazing as this community is so often forgotten, mental health being the poor relation.
In my role as Director/Administrator for the charity I have a huge workload which I do voluntarily on top of my own work. Carole is hugely supportive and has helped me personally and professionally. I can run ideas past her and between us we can evolve all sorts of standards and progressions as she contributes her ideas – I can't say how helpful this is to me and to the charity in general. She inspires me greatly. She always has an ear to lift me when I am down or struggling with work and is always, always enthusiastic and encouraging. Like I said – A Breath of Fresh Air!
I wish we had more Caroles in the world.
Sue Stretton JP- Director/Administrator/Secretary HHN